Blog
From Preservation to Auction: remarkably preserved letter from a 17th-century Violin Collector Auctioned
---
2018-04-01




String Instrument News
---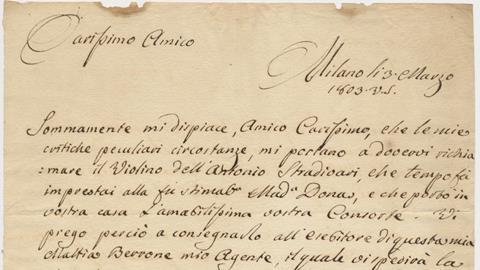 ---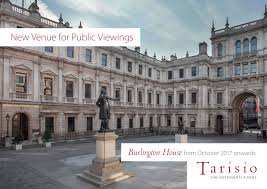 It was amazing to see some ancient and significant documents kept and is now up for an auction with enormous value. Just like the letter of a 17th-century Violin Collector Count Cozio di Salabue (1755–1840). Last June 2017 in London, the Tarisio Auction House set the letter for an auction for £1,800-£2,500.
The Sender and the Recipient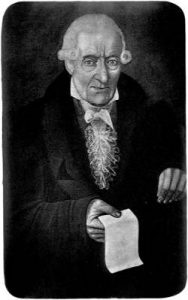 The letter was written by originally by Count Cozio di Salabue on the 3rd of March 1803. The recipient of the letter was Madame Donas. The letter contains a request for Madame Donas to return the 1730 Stradivari owned by Count Cozio. The agent of Count Cozio places a footnote on the letter indicating a confirmation that on July 13, 1803, the violin was received safe and in excellent condition as with accordance to the declaration of Madame Donas.
A Collector and Connoisseur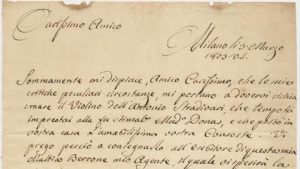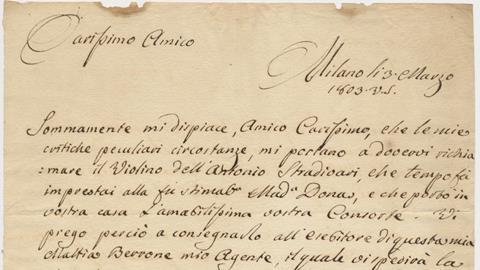 Who is Count Cozio di Salabue? His collection of extensively remarkable violin with labels of Guadagnini, Bergonzi, Amati, and Stradivari made him one of the famous Italian violin collectors in the 17th century. Cozio's fame was not only in his collections but also on his skill and ability as a connoisseur of exceptional violins which made him one of the greatest during his time. What is also remarkable is that the "Cozio Carteggio" (Count Cozio's Notebook) which holds the detailed record of his collection was also preserved until today including its rich history of the early period. The bidding of the letter lasted from June 13, 2017, up to June 26, 2017.According to Tarisio, the auctioning of Count Cozio's was such a rare opportunity. It was probably because of its rich historical context. Tarisio added that it was, in fact, their first time to have this kind of offer.